Chapter 39

Excel formulas and functions
39.1

Formulas

Important basics about formulas in Excel:
Formulas in Excel always begin with an equals sign: =
The formula is always typed into the cell where the answer should appear.
The formula is completed by pressing Enter on the keyboard.
39.1.1

Basic arithmetic operators

Below are some examples for formulas using arithmetic operators.

Add the values in cells A1 and B1: =A1+B1

To get the answer in C1:
Subtract the value in B1 from the value in A1: =A1-B1
Multiply the values in cells A1 and B1: =A1*B1
You get the idea. More information on arithmetic operators can be found here.
39.2

Functions

Formulas can make use of predefined functions in Excel. We will only describe a small set of functions that will be fundamental to our analyses. For more information, see this page about Excel functions sorted by category or this page about Excel functions in alphabetical order.

If you want help on functions in Excel, click on the function symbol \(fx\):

This will open the Formula Builder, providing you with information on the available functions, and if you double-click on a specific function, help with building the formula. Alternatively, go to "Help" → "Excel Help", or search online.
39.3

Copying formulas

Formulas can be copied to adjacent cells using what Excel calls the "fill handle":
If you place your mouse cursor over the fill handle, it will turn into a plus sign. If you now drag the fill handle, you can copy formulas to adjacent cells. Note that this will update relative cell references. For example, if you copy the formula =A1+B1 from row 1 to row 2, the formula will become =A2+B2. Typically, this is the behaviour you want.
However, sometimes you might not want to update a cell reference. For example, you might have calculated the mean of some values and now you would like to calculate the deviation from the mean (i.e., subtract the mean from your other values.)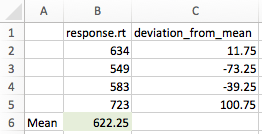 This is when absolute cell references (see Section 38.8) are required. Use the following formula in cell C2 to subtract the mean from all values: =B2-$B$6 (where $B$6 is the absolute reference to cell B6)
When you copy this formula downwards, only the first cell reference will be updated. That is, the formulas will become:
Row 3: =B3-$B$6
Row 4: =B4-$B$6, etc.
Note that it is also possible to just have an absolute column reference (e.g., $B6) or an absolute row reference (e.g., B$6).
If you want to copy a formula to a new cell without changing anything initially, the following procedure typically works best:
Select the cell with the to-be-copied formula
Select the formula in the formula bar (the field next to

\(fx\)

)
Press Cmd + C or Ctrl + C
Press Esc (Don't forget this step!)
Click on the cell to which the formula should be copied
Press Cmd + V or Ctrl + V